Moosh Walks
Feature Design - Page Redesign
Background
Mooshwalks mission is to empower young girls through loud choices of self expression.. These original characters will be an animated show, comic book and a toy company in the future.
The Challenge
Mooshwalks presented some unique challenges, the client wants her characters to be more prominent for children to come to the page and read and learn about the many characters. She also requested that designs stick to a very minimalistic format for she wanted to edit the website herself through her shopify template. Shopify was referenced for designs to fit the constraints of the marketplace. Also having to design for very young children as well as parents to ensure that both the new feature and the redesign would fit to both personas without getting in the way of the business was a fun challenge to design.
Scope
Timeline: 3 week sprint on 2 person team
My Roles: UX Research, Ideation, Concept Sketching, Medium Fidelity Wireframes, Prototyping, User Testing
Platform: Desktop
Tools: Pen/Paper, Sketch, Invision, Figma, Photoshop
Teammate: Julie Baek - User Research Interviews, Ideation, UI, Visual Design
Deliverables
Heuristics + C&C Analysis, Persona, Sitemap, Task Analysis, User Experience Map, Wireframes, Low-Med-High Fidelity Prototypes, Clickable Prototype
Learning about the company
Building the brand identity prism outlined what about the characters and company was attractive to the target user.
Competitive & Comparative Analysis and Heuristic Evaluation
The scope of the research could be narrowed down after running the C&C analysis. Making sure to broaden the competitive scope. We chose to touch on successful companies who have features or themes that our client would like to take inspiration from. Ranging from storyline telling, character development and association, to similar companies selling socks as well.
Takeaways: When analyzing the data collected Social Media presence and was not something the major competitors such as LOL Surprise kids and TY had but during our interviews and inquiries were important features to keep, We also found that having a printable catalog was not something that was really desired over having short stories available online.
Who We're Designing For
The biggest challenge for this project was determining the design and feature additions.
After the contextual inquiries and interviews with children we learned that children as young as 6 years old were proficient with tablets and computers enough to browse and look up characters on websites.
Affinity Mapping | Interview Synthesis
What Did We Learn?
Kids like to play games and like character development, but they do not care much for a continuous storyline.

They remember characters

Kids want to look up stories of characters

Having a card or information that indicates there is character information on the website would likely be effective at bringing traffic to the website. Which we recommended as a new addition to the physical products carried in stores.
Customer Journey Map
Going through the steps as our persona Sarah, this is the experience map and pain points. These areas were prioritized in the redesign process to make sure they do not cause any friction after the redesign.
Unfortunately the checkout process wasn't the most streamlined process, but sticking to the constraints of shopify we could not change the flow of the checkout process.
Before The Sketching
Fix problems with the current state of the site map and navigation.
Run a few card sorts to clean up and make navigation easier and more intuitive.
Drastically reduce the number of pages while keeping all the content.
Feature Prioritization
Ensure features, ideas, and scope will fit to timeframe as well as feasibility.
Sketch It Out
I sketched out different ideas and concepts with pen and paper. I iterated on design concepts after testing out any problem areas before comitting to higher fidelity designs.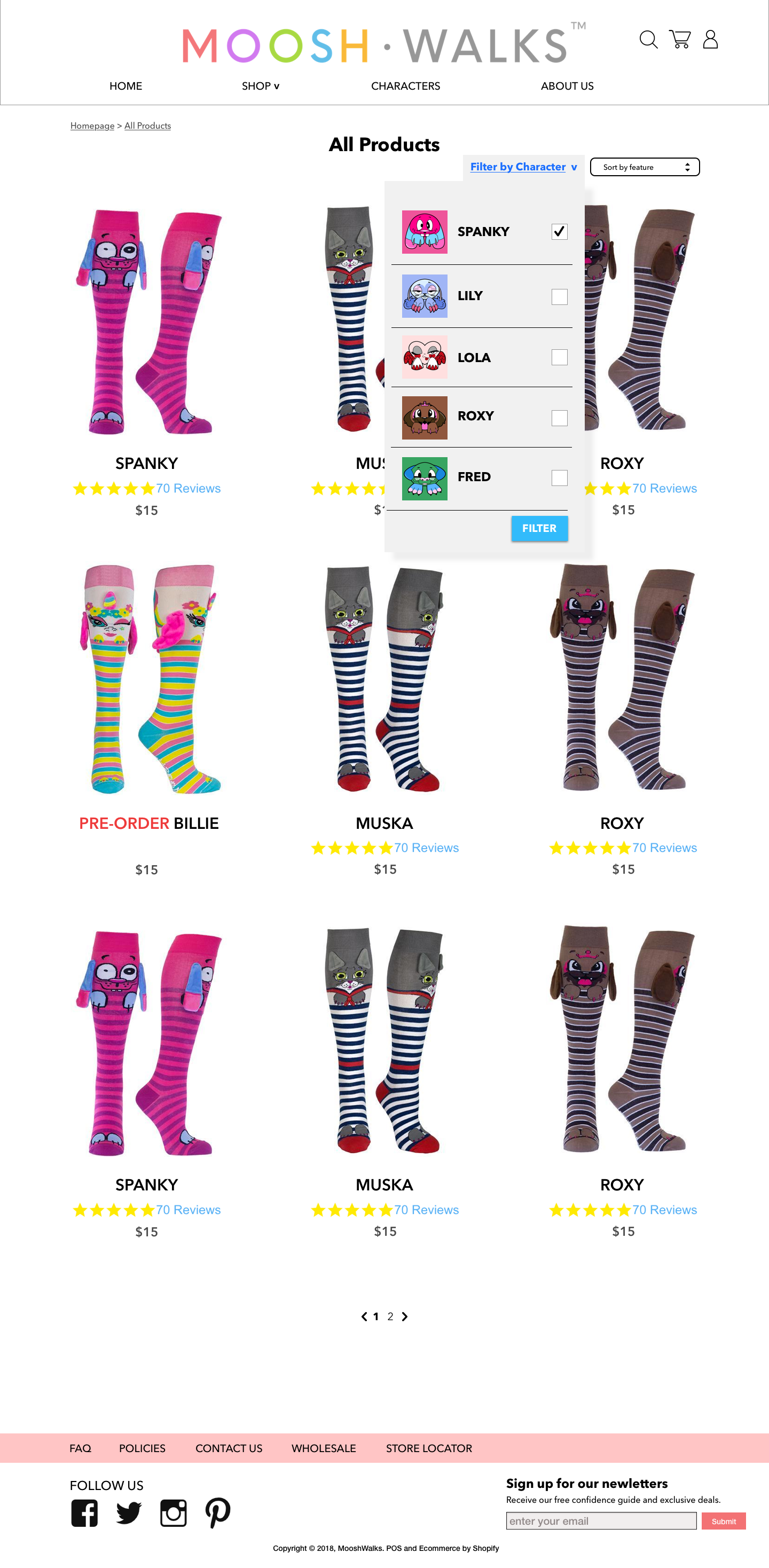 Prototype.
The final prototype gave us great insight on future recommendations as well as the information architecture and current navigation. With successful testing of our prototype we were able to gain insight on how users interacted with our new feature, what they felt and though as well as confirm our research and recommendations would be useful.
Our testing of the final prototype ran very successfully and the majority of our users were pleased to see this new feature and had no trouble navigating the new feature integration.